Samsung S21 Series Not Powered by Exynos 1080 SOC
Posted On November 3, 2020
Firstly, welcome to Style Lifestyle Family your all in one Destination for Fitness, Health, Beauty, Nutrition and Technology. Don't Forget to share our page as each Share inspires us to Write More and More. Coming to today's topic here we will talk about OnePlus 9 Leaks What All we Know.
Samsung has Officially Unveiled the Launch Date of their Latest Flagship Processor Exynos 1080 SOC. The Exynos 1080 SOC will be Unveiled on 12th November 2020. The Processor will be Based on 5nm Chip Technology with Built in 5g Technology. Its a 5nm SOC just Like the A14 Bionic in iPhone 12 Series and Kirin 9000 SOC by Huawei.
The Antutu Score of this Processor has Already been Leaked where it Outscored the Snapdragon 865 and 865 Plus with an Antutu Score of 6,93,600.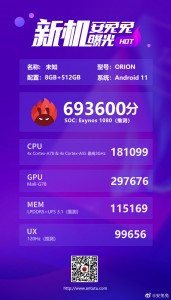 But here a Glitch More Like Good News. The Samsung S21 Series will not be Running on Exynos 1080 Series. According to Latest Rumor, this Processor will be Running on Midrange 5g Phones which will be a Successor to Galaxy A51 and A71. The Expected Price for them is Between 35k-50k.
Which Processor will Power the S21 Series? In India Flagship Samsung Phones are Running on Exynos but they are almost Equally Powerful as Flagship Snapdragon Processor. But we the Antutu Score Leak of the Snapdragon 875 which is 25% Faster than 865+ and even 20% Faster than the Score Leak of Exynos 1080 Series. The S Series of Samsung is the Flagship Series which Competes against the Likes of other Flagship Phones. It Clearly Means that Samsung are Either Working on Some Other Processor along with Exynos 1080 Maybe 1080+ or they Might Collab with Snapdragon like they do in other Countries.
This was all for OnePlus 9 Leaks What All we Know. Also do Check our OnePlus 9 Leaks What All we Know.